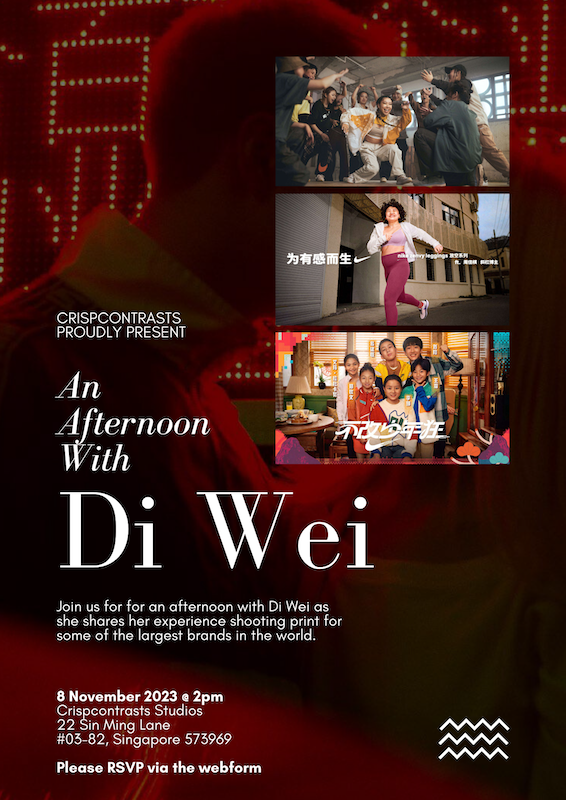 Crispcontrasts Studios proudly present "An Afternoon with Di Wei".
Di Wei is an active Chinese music photographer known for her
innovative and daring visuals. After beginning her career in Los Angeles, Di Wei has spent over seven years honing her craft in the industry which made a name for herself as an uprising artist, constantly pushing the envelope with her groundbreaking and radical visual approach.Currently based in Shanghai, she specializes in shooting album covers, magazines, commercial KV and keeps exploring future possibilities with photography.
With her distinct vision and unique style, she has worked on album covers for some of the most exciting and cutting-edge artists in the industry, including Thundercat, Kamasi Washington, Vinida, Gali, 五条人,
新裤子, 王嘉尔, 刘宪华, TAIGA, KAWA, James Shi, Kafe Hu, Straight Fire Gang,
Korean Mama, Alma Lake, and more. In addition to her work as a photographer, Di Wei is a celebrated director, having directed the award-winning short films "Birdeyes View" and "Reptiles". Her bold, provocative approach to storytelling with epic of divinity has earned her accolades from critics and audiences alike, and cemented her status as an edgy and uprising artist to watch.Di Wei's unique vision and talent have made her a sought-after artist in the music and advertising
industries.
You may see some of her work here: https://crispcontrasts.com.sg/di-wei/
Please RSVP as seats are limited.